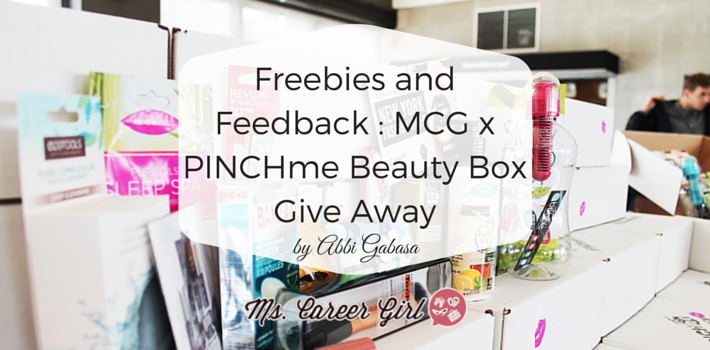 Find out why in this Ms. Career Girl interview with PinchMe founder, Jeremy Reid, and get a chance to win free PINCHme boxes sent to your doors! 
Click here to enter the contest now.
Everyone loves a freebie, and companies are always looking for feedback on their new products from potential consumers. So why not bring the businesses and consumers together? This was the pure and bright idea that PINCHme founder Jeremy Reid conceived of when he launched the service out of Australia back in February, 2013.  Today, this New York City-based startup attracts 1.3 Million members to PINCHme.com to participate in an opportunity to fill a box with free samples once per month. The companies can filter which samples are available to which demographics based on specific targeting outlined by the featured brands, such as these past products. This box of goodies is then shipped to the member for him or her to test the products and then provide their feedback to the brands.
Last month in May, 2015 PINCHme's Sample Tuesday featured many new exciting products, perfectly in line with the Ms. Career Girl audience. This included brands like Playtex Tampons, Pads & Liners, Pez Hedz candy, Natu Shampoo + Conditioner, Blissful Body products, Orchard Valley Harvest snacks, and more.
I picked PINCHme founder Jeremy Reid's brain for some short answers about PINCHME and how we, Career Girls, can participate. Read on!
What is PINCHme? How does it work?
"PINCHme.com is a FREE box subscription service that sends its members samples in exchange for their honest feedback. It's as simple as that. When a member first signs up on PINCHme.com, they complete a series of questions about themselves. They more they tell us about themselves, the more products they are able to see!"
How often do subscribers get a PINCHme box? Why is that timeframe the best for subscribers?
"Each member is eligible to claim a box once a month. This allows for enough time for our members to receive the products, sample them and complete their feedback."
What are the biggest brands affiliated with PINCHme? How do you choose which products to include?
"We have been fortunate enough to have the support of nearly all of the major manufacturers in market, including names such as Procter & Gamble, Kraft, Kellogg's, Revlon, Johnson & Johnson, Mars, L'Oreal as well as a host of up and coming smaller brands. We look to work with brands that have great innovation and produce great products. Our goal is to match the ideal product with the ideal consumer."
How many subscribers do you have now?
"Our community is now 1.3 million members and growing!"
Personally, what is your favorite aspect of the concept?
"The fact that we are able to introduce people to brands that they have never heard of before and end up falling in love with them because of PINCHme."
What brought about this idea?
"Seeing the wastage and the lack of technology that was occurring with traditional product sampling."
What were the initial challenges of setting up this business?
"Getting brands to think differently about product sampling and they ways in which they touch their consumers."
What are the biggest milestones for the company so far?
"Reaching one million members within 12 months of operations and shipping more than 5 million samples into the market."
What's in the future of PINCHme?
"We are launching version 2.0 in Summer 2015. Stay tuned!"
What is your biggest advice for Career Girls aspiring to build their own startup?
"Be persistent. Believe in yourself. Surround yourself with very smart people. Think with an open mind."
What kind of people do you look for when building a business team?
"I look for independent, smart, motivated and loyal individuals that are dedicated to the vision of the business as much as I am."
How can our girls sign up and learn more about PINCHme?
"Go to www.pinchme.com and sign up. Complete your profile and start pinching!"
Want to get your very own PINCHme beauty boxes? PINCHme is offering Ms Career Girl 5 exclusive premium PINCHme beauty boxes to give away! Click the link below to find out how:
---